Ultra Violet – UV Disinfection
With so many Okanagan residents relying on water from lakes, rivers and wells, organic contaminants are a very real threat.  Watersoft BC has the natural, whole-home solution to eliminate the risk of contamination by bacteria, viruses, and parasites  such as cryptosporidium and giardia.  We are proud to be the Okanagan's leading provider of residential and commercial UV water disinfection systems, supplying safe, sterilized water without the use of chemicals.
The Advanced Features of the NEW VIQUA Arros UV system:
The VIQUA Arros™ is the premium residential UV disinfection system from VIQUA. It delivers optimized performance while minimizing maintenance hassles.
VIQUA Arros has been validated through microbial testing. Through this testing, performance data has been generated for UV dose delivery to inactivate Cryptosporidium, Giardia, Escherichia coli (E. coli), and fecal coliform.
The all new VIQUA Arros with Stream™ Technology is designed to ensure optimal performance while saving you money every day!
Available in 9 GPM, 15 GPM and 22 GPM, the VIQUA Arros UV system is designed for streamlined installation and perfectly suited to homes, cottages, and light commercial applications.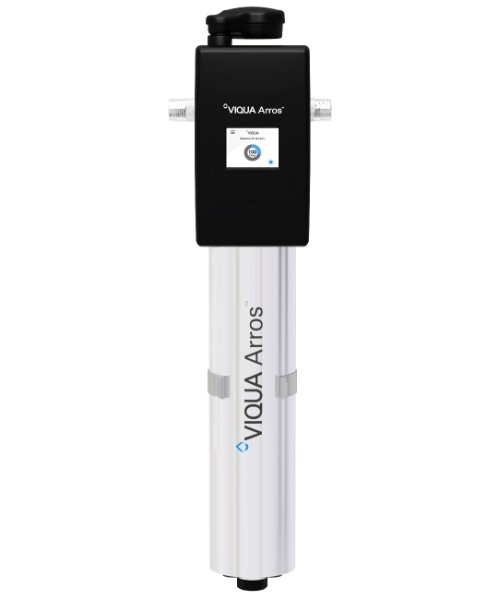 Always Know the Status of Your VIQUA Arros UV System
LCD display with touchscreen navigation keeps you informed about system function

An LED halo indicates at a glance that the unit is powered.
Fits Easily Into Your Space
The Tidal™ chamber design, mounted controller and
high output UV lamp technology form a compact
unit.
Trust in the Peak Performance of Your VIQUA Arros UV System

Stream™ technology delivers accurate lamp-life measurement.

Visual countdown displays when lamp unit replacement is due.

Audible alarm signals "time to act".

Constant current feature ensures stable UV output over entire life (9000 hours) of lamp unit, regardless of power fluctuations.

Minimal Maintenance Requirements

Annual lamp unit change ensures continued optimal performance.

The UV Process:
Ultraviolet (UV) treatment is an extremely quick physical process. Ultraviolet light mutates and/or degrades DNA. DNA (or deoxyribonucleic acid) is the part of the cell that gives an organism its instructions on how to function and reproduce. When the DNA is damaged, the organism becomes unable to function because its "instructions" are garbled or missing. An organism that has no instructions cannot function and reproduce, and cannot cause infection. It is rendered harmless and eventually dies. In the UV disinfection process, water is sterilized as it runs through a stainless steel chamber (also called a "reactor") that contains a special UV-producing lamp. As the water flows past the lamp, the microbes in the water receive a lethal dose of UV. The water is then safe to drink.