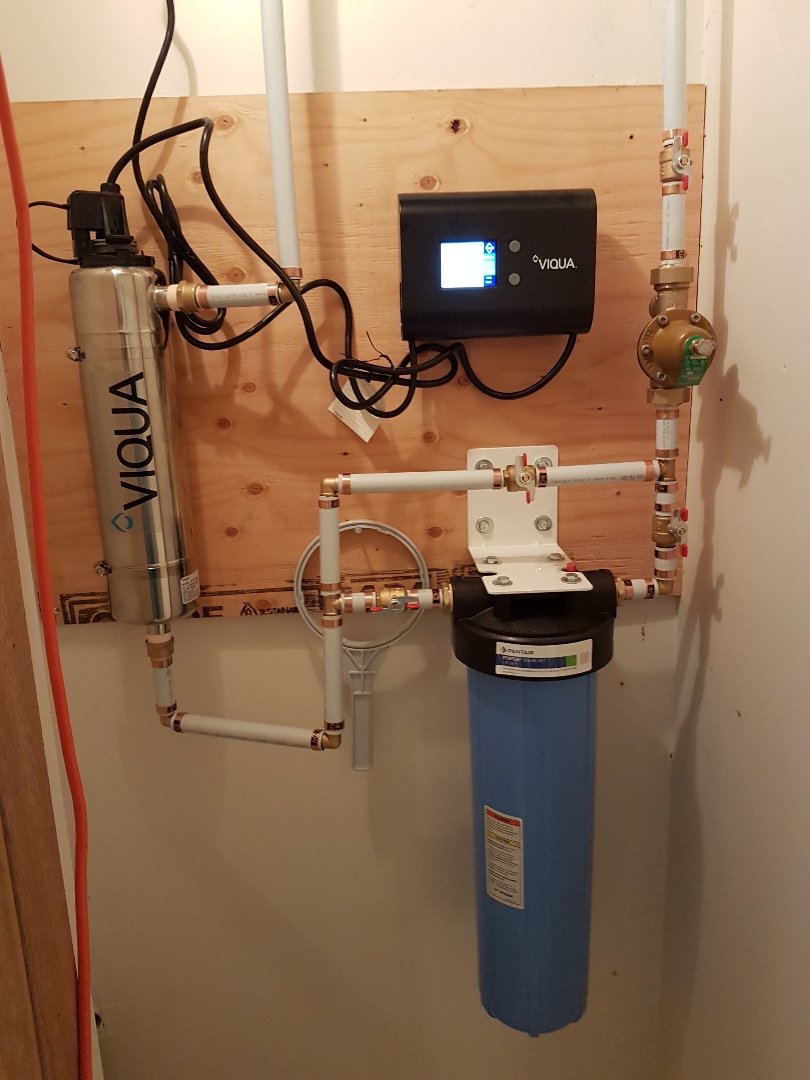 The UV "Boil Water Advisory" Special

Viqua Ultra Violet sterilization that comes with a 20″ Big Blue five-micron filter. This is great option for bacteria- and virus laden-water supplies, and for those annoying boil water advisories.
Whole House Reverse Osmosis Water System

Commercial whole house Reverse Osmosis system with a 200 gallon storage tank and a pump. This system has a Nextsand sediment filter, Water Softener, and an Ultra Violet Sterilizer. This luxury water system will provide pure water to every tap in the house.
Well Water Package

Ultra Max Water Softener and an AIO (Air Injected Oxidization) Iron filter. This dual systems will remove calcium, magnesium, iron, manganese, and hydrogen sulfide. This is a must for people on well water; it will remove pesky staining and that rotten egg smell. UV system may be required. A great new well system in combination with a Grundfos constant pressure pump system provided by Moore's Well and Pump.
The Perfect Lake Water System

This system has a whole house Pentair NextSand Filter, Ultra Max Water Softener, and Viqua Ultra Violet Sanitation. The GRO RO – Reverse Osmosis is feeding a kitchen side faucet and the fridge. This complete water system is used to remove sediment, calcium, magnesium, and the inactivation of viruses and bacteria. It's the perfect system to provide the highest quality water at your finger tips, and a more affordable option than a whole-house reverse osmosis system.
The Reverse Osmosis Unit

The GRO Reverse Osmosis unit is the most efficient option to remove taste, odors, and smells from your drinking water. It will filter cancer causing agents that are created when chlorine is treated at your local city/municipality water treatment facility. It will also remove chlorine, lead, copper, mercury and a list of many other contaminants that can be harmful to your health. This compact unit can be installed under the kitchen sink and in some instances in your mechanical room. This will provide you with drinking water from a designer faucet at your sink or from your fridge.